It has been more than two years since we released our first cloud-based POS terminal management system, JoinTMS. During this time, we have expanded the range of supported equipment and developed various software for various payment devices. Our catalog met a lot of new payment services. JoinTMS 1.0 could no longer satisfy our needs and was replaced by whole-new, faster, flexible, and scalable JoinTMS 2.0.
So what is JoinTMS 2.0? First and foremost, it's a scalable cloud-based TMS that allows a bank to remotely manage POS equipment (terminals, cash registers, SoftPOS, validators, etc.) with JoinPOS software on board. We relied on three premises when creating JoinTMS 2.0:
1. Curbing operating costs. A bank can now use equipment from various vendors in a single complex. This reduces engineering and technical costs significantly and allows faster and more efficient commissioning of new equipment. To date, JoinTMS supports equipment from Salyut/WizarPOS, NewPOS, Feitan, Aisino, and Valitek.
2. Accelerating equipment configuration. The intuitive interface of JoinTMS helps engineering services reconfigure terminals in minutes. With presets used as the basis for configuration, a terminal network can be configured in just 4 clicks. Moreover, the configuration pre-validation system eliminates the human factor and helps avoid errors during equipment configuration.
3. Effective scaling within the company. The advanced enterprise management system helps handle terminal equipment items located in different cities or countries. Every office or subdivision can access either to its own terminal segment or to the company's terminal network.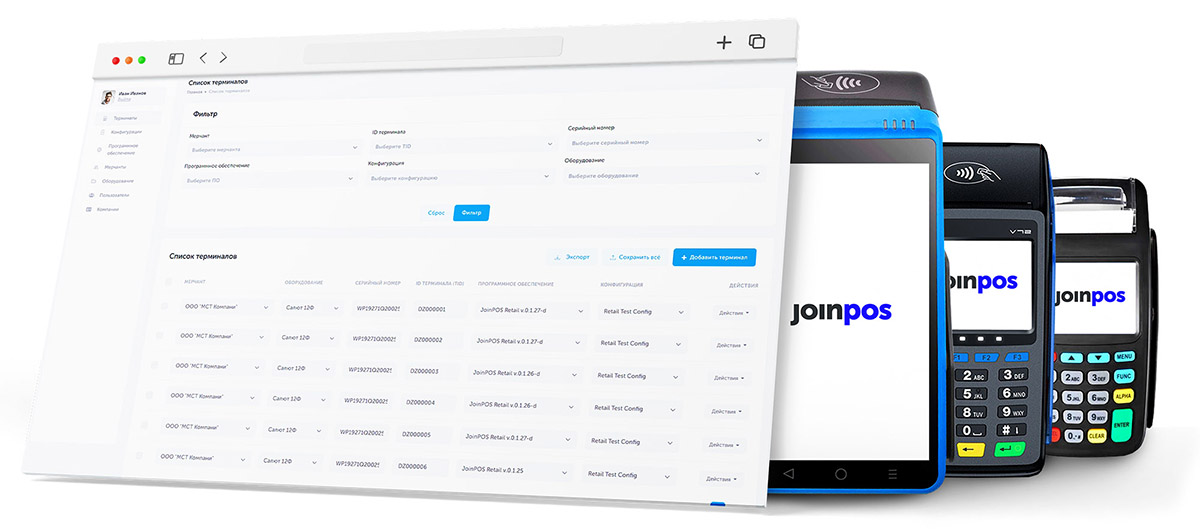 With these three cornerstone ideas in mind, we could not just create a product of high technical quality but also provide banks with a tool to optimize their own costs.
We don't cease development with the release of JoinTMS 2.0. What we plan to do is create one of the most innovative TMS in the market. We are already creating an ML-powered predictive analytics module. This module will help evaluate performance of a certain item from a certain brand and analyze incidents occurred on it. Such data can help assess equipment quality and improve the quality of service. Stay with us and we will share more about the new functions soon.