MST Company has developed a payment solution for the popular billing system BILLManager by ISPSystem. Currently, the module supports payment gateways of two banks, who's providing Internet acquiring services: Sberbank and RFI Bank. Now in our plans to add several more banks to the module's functionality.
Our module allows you to reduce transaction costs and send your clients to pay directly to a bank, bypassing a 3rd parties in the face of payment aggregators. For example, rates for bank cards payments in payment aggregators may vary from 2.5% to 3.9%. Thus, the savings with our module is at least 0.5% for each bank card transaction.
Для того чтобы начать пользоваться нашим модулем, необходимо выполнить 3 условия:
Установить BILLmanager.
Заключить договор с банком.
Установить модуль, используя нашу инструкцию.
BILLmanager 5
SSH
PHP 7 + xml (installation path /usr/bin/php or symlink to this directory)
Connect via ssh to a server with installed BillManager5 using a user with root rights.
Download and unpack the archive, then upload all its contents (cgi folders, paymethods, etc.) to the root of the billing directory (default root: /usr/local/mgr5).
Run the script: sh /usr/local/mgr5/set_chmod_multibank.sh - to automatically set the rights to execute the module files. After execution, the script will automatically be deleted.
Reboot billing panel using following command: killall core.
Log in as administrator and go to the Payment methods section .
Add payment method - Multibank.

Fill your payment details.

Choose a bank from the list and fill the form.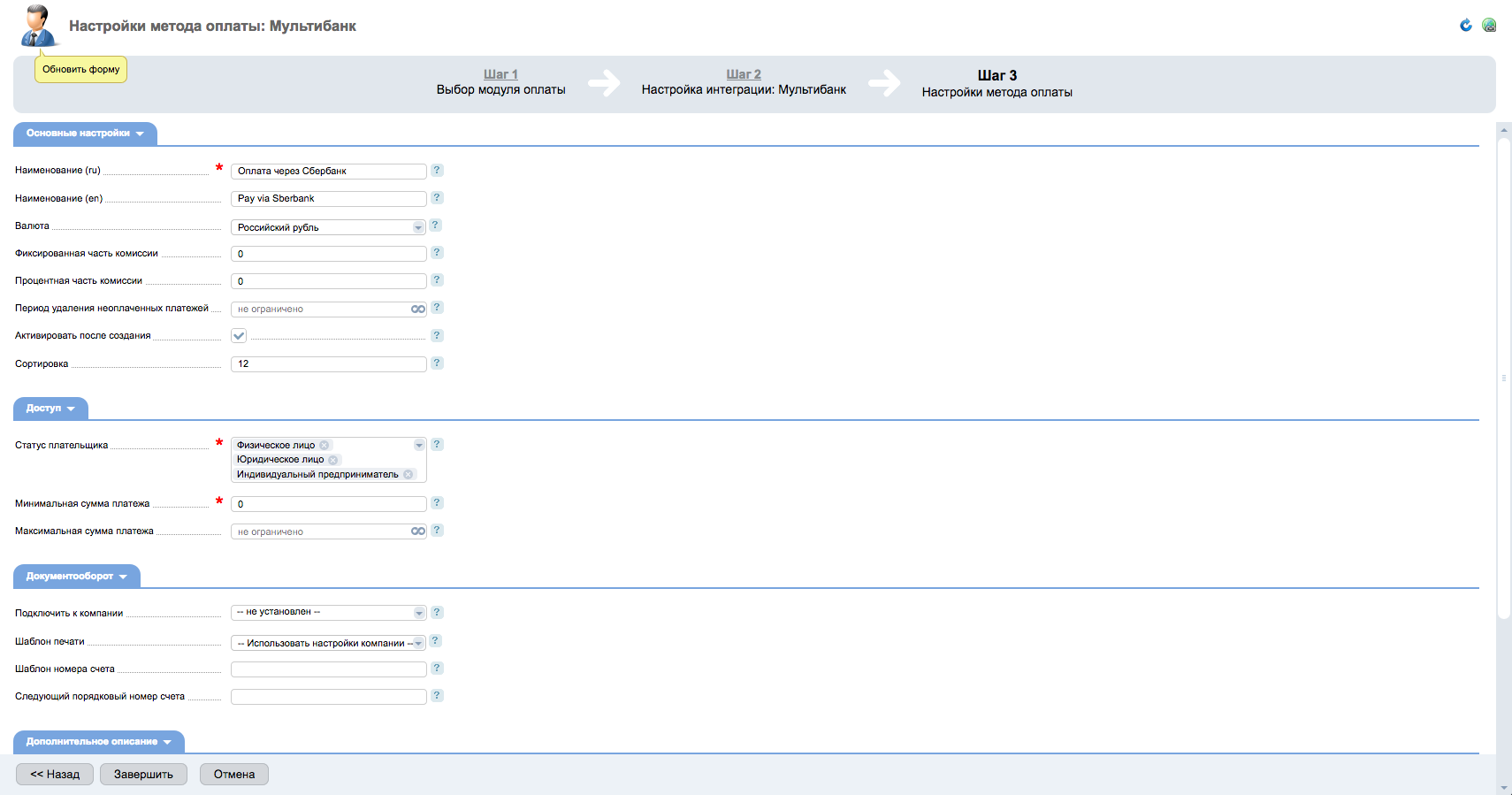 Now installation and configuration of the module is complete and customers get a new payment method.
If you are already a client of a bank which is not in our list, then we are ready to support your bank in our module (if it is technically possible).
Want this module? Write us.